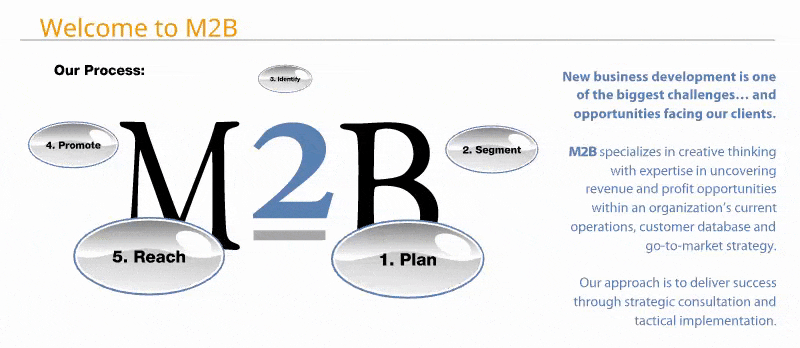 M2B & their partners have over 155 years of experience as a marketing resource for business development harnessing database marketing tools & direct marketing techniques to achieve sustainable growth in sales, profits and market share on behalf of the companies worked for and clients represented.
From identifying how to profitably reach small and mid size businesses to creating optimal programs to target buying centers of major & global accounts M2B has the experience and resources to guide our clients to a successful segmentation strategy.
From Fortune 1000 companies to medium to large entrepreneurial direct marketers, and service providers M2B has assisted businesses in the areas of:
database development
direct marketing campaign management
data analysis for list acquisition
segmentation strategy
data mining for product development
Our primary concentration has always been on:
program design and development for –

new business acquisition
continuity/retention programs
lead generation
program analysis including fulfillment strategies

…with particular emphasis in the area of channel marketing and leveraging alliance relationships to deliver optimum results.
Let M2B assist you to achieve your goals thru the development of strategic plans & tactical implementation of programs that drive successful, measurable & sustainable results.